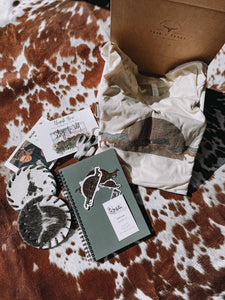 This is our Horses are Faster box from Tees + TEASE featuring Hides and Kinds with the Keychain. This is a one time buy and you are not in the western vibe to receive any future boxes. This box only. 
When ordering please place your shirt/ tee size in the notes section as I custom print my own tees to fit you - the box is fitted to you. Sizes we print on is Small thru to 2 XL. There is a limited number of boxes available. This box ships free. 
You can subscribe to tees + tease for savings and monthly western boxes fitted to you!