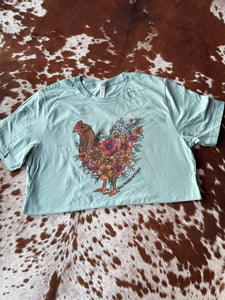 Chickens!!! Are you obsessed with chickens have your own little flock and just chicken everything….? Then you need this western floral chicken tee!!! Be sure to grab your little cowgirl in training a matching chicken floral tee too! 
Available on a crewneck as well!  
so enjoy this design currently on dusty blue! We have so many other colour options available so as always just message us if you want it on a certain color! We carry 23 options in stock! 🤠 black, brown, white, teal, dusty blue, turquoise, mint, ice blue, navy, heathered navy, heathered brown, athletic grey and dark grey just to name a few! 


for sizing references- I can wear a small for a fitted look and I wear a large for a shoulder fit but need to roll the sleeves and wear it tucked in. I am 5'9" tall and 32C bust. This tee is modelled from the fashion show but on Instagram is try ons!